Platform - Mette Riise & Rebecca Krasnik
In the exhibition "The Less Unsustainable Talkshow", stories about green transformation and economic growth are emphasised, turned upside down and taken apart. Artist Mette Riise presents her latest film work which with documentary touches, fictional staging and critical satire follows the production of a talk show about the enviromental report The Limits to Growth from 1972. The exhibition, curated by Rebecca Krasnik, challenges the growth paradigms of capitalism and explores the need for alternative narratives and worldviews.  
Platform is supported by Det Obelske Familiefond.
Where: Platform 
When: 9/4 – 22/5 2022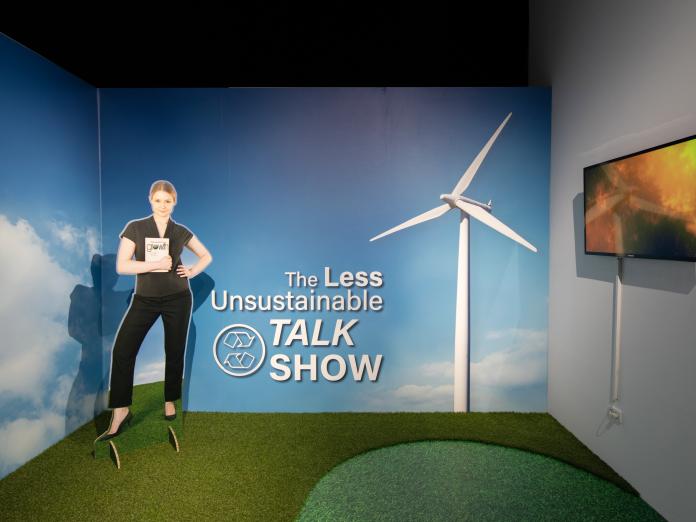 Uvildig komité sikrer armslængdeprincip
Bag Platforms årlige program står en komité af fire kunstprofessionelle aktører fra det københavnske kunstmiljø. De skal med deres respektive erfaring og indsigt sikre en skarp og fremadskuende udvælgelse af Platforms program frem til 2024.   
 
Komitéen består af Lotte Løvholm (kurator, redaktør, skribent), Christopher Sand-Iversen (kunsthistoriker, skribent og med-leder af SixtyEight Art Institute), Anders Kjær Rasmussen (kulturformidler og udstillingsleder af Vandrehallen) og Natalia Gutman (kurator og kunsthistoriker). 
  
I forbindelse med udformningen af programmet for Platform i 2022 har komitéen valgt seks kunstnere og seks kuratorer, der danner par om hver af de seks årlige udstillinger. Med parring af en kunstner og kurator skaber Platform mulighed for nye stærke samarbejder og netværk, der kan udfoldes og udfordres i et gensidigt inspirerende miljø.
Platform 2022
Beside Mette Riise & Rebecca Krasnik, Platform will exhibit the following artists and curators:
Ruby Mariama Laura Andersen Ndoye & Aysha Amin, Clara Busch & Nanna Saplana, Yujin Jung & Eli Ståhl samt Astrid Sonne & Ilethia Sharp.